Adult Training
Krav Maga Global Ireland runs adult Krav Maga self defence classes & courses in our clubs around the country. Krav Maga is an excellent activity for learning practical self defence skills for the real world for men & women of all ages. On top of this Krav Maga training is an excellent activity for building fitness, improving mobility, flexibility and strength. Instructors at KMG Ireland clubs have completed the globally recognised KMG instructor course and take part in regular instructor updates so you can be assured they have the experience, skill and knowledge necessary to ensure a safe, fun and enjoyable Krav Maga class which will help you achieve your goals.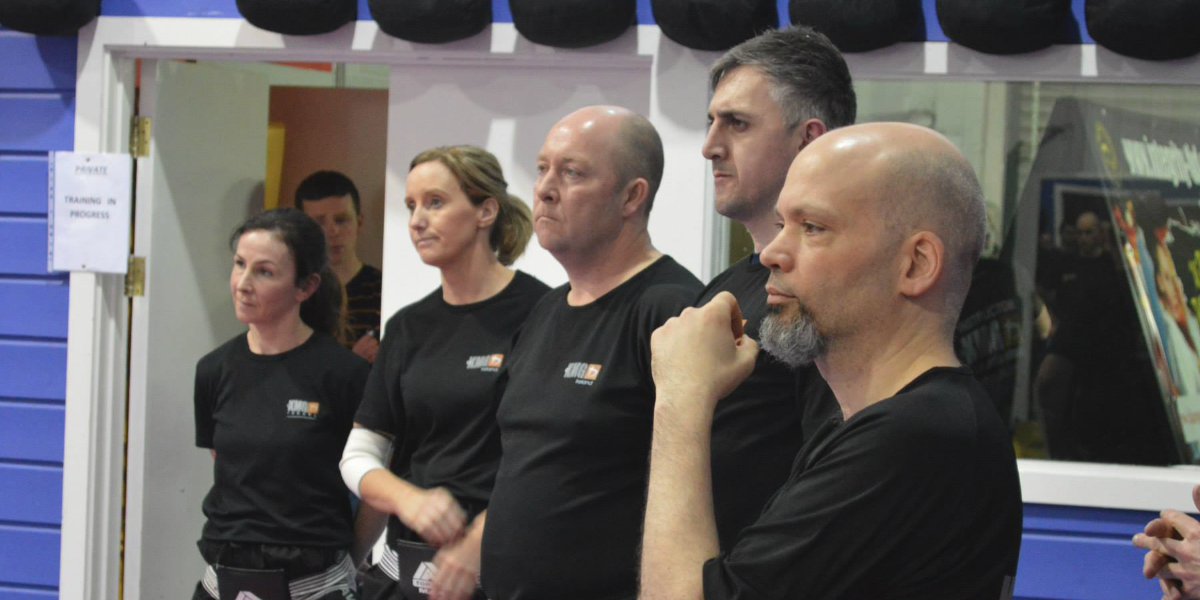 What will I learn?
You will learn skills that will help you protect yourself and your loved ones against a variety of attacks including knife threats, chokes, punches & kicks, ground attacks and multiple attacker situations. As well as this you will learn the tactics needed for awareness & avoidance and de-escalation to help you prevent confrontation if possible.
Krav Maga classes cover a range of striking & boxing drills, strength & cardio exercises to build your fitness and while the subject matter is serious, classes are taught in a relaxed, friendly manner making training a rewarding and enjoyable experience. What is more Krav Maga clubs are made up of a great community of members, this community provides support and motivation, helping you stay on track with your training and achieve your goals.
Training with KMG Ireland
While most people don't start training with the goal of grading, after a number of months of training it is the ideal way to test yourself. Members of KMG Ireland clubs have access to the Krav Maga Global Grading system and regularly take part in training camps and gradings with top international instructors who come to Ireland regularly. As KMG is an international body, KMG Ireland students also have the opportunity to train in KMG clubs in different countries when they are abroad for holidays or work, allowing you connect to the wider KMG community.
Krav Maga is an activity for people of all ages and backgrounds, no previous experience or fitness level is needed to get started, visit our club directory and come along to a class, you will not regret it!